April 04, 2016 Monday - updated 11:30 AM PT
HOW A CITY GETS SMART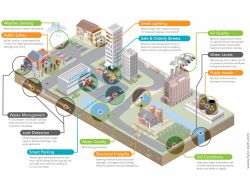 Saint Louis, United States (IBwire.com - April 04, 2016)
SMART CITIES use the power of information to save valuable time, money and resources, minimizing stresses on a city's infrastructure and ultimately, on its citizens. They may seem like science fiction, but in reality they're a sensible, practical remedy to urban inefficiencies.
What is a smart city? Smart cities are cleaner, safer, greener, less expensive, and easier to get around. They have sensors, computers, mobile devices and people – all working together, gathering data, making it usable, and sharing insights, through a geophysical social network.
Thanks to the power of openly shared data, smart city residents enjoy less traffic and more community satisfaction. By putting information in the hands of people, it's possible to unlock options that make communities cleaner, safer, greener, less expensive, and easier to get around. Bob Glatz, CEO at Fybr, a U.S. supplier of end-to- end smart city solutions, says this is critical to the adoption and growth of smart cities:
"Open sourcing data gives any great mind the chance to develop life-changing ideas that can be used with existing smart city technologies while supporting new uses for that data down the road."
Each city can uniquely realize its own vision from virtually infinite possibilities. Santander, Spain, population 180,000, is arguably the world's smartest city. There, thousands of sensors measure light, pressure, temperature, humidity, and the movements of both cars and people.
All this data is transferred to a central location, processed, and released to help drivers avoid traffic, regulate the watering of green spaces, control street lighting and more. In Santander, busses, taxis and police cars all have sensors tracking their locations. Residents can turn personal smartphones into sensors to create an even richer data experience.
Applications like these raise privacy, data accuracy and overall system security concerns, so it's important to keep personal privacy in mind as we develop smart cities.
This requires responsibility and vigilance, from the communities that implement smart solutions and from the companies who develop the technology. Rik Goodwin, Ph.D., COO at Fybr, puts it this way:
"Our closed hardware architecture maintains security, control and integrity of data and devices, while our platform ensures accuracy and enables sharing of data, so it's accessible enough to be beneficial. Balancing security and accessibility is the key to having data that is useful to city developers, community activists and every citizen."
The federal DOT has launched the Smart City Challenge, which promises a $50 million award to the city with the best plan. Seventy- seven cities have risen to the challenge, and seven finalists were selected last month. The winner will be announced this summer.
No question about it: smart cities are happening. You'll likely see evidence of that soon in a parking space, a bridge, or a block near you. Meanwhile, keep in mind that smart cities are more than networks and sensors – they're about community improvement, open government, and a better quality of life.
Media Contact:
Matt Willenbrink
Fybr
640 Cepi Drive - Suite C
Saint Louis, MO 63005
Phone: 636.730.3111 x112
Website:
www.fybr-tech.com
Next Article :